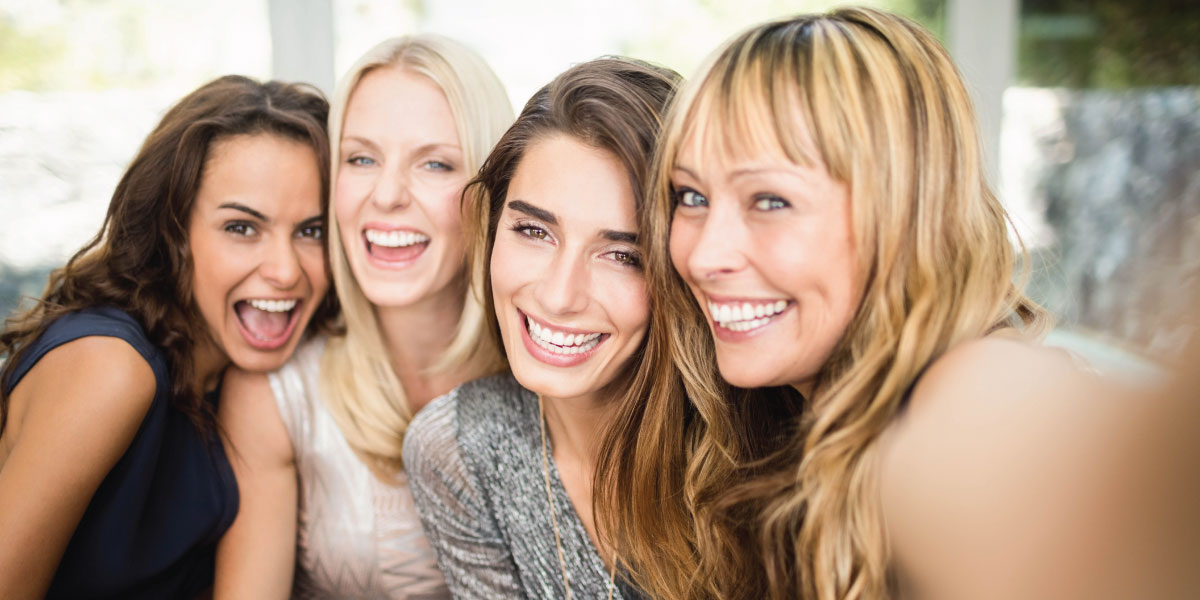 Want to earn FREE Botox and fillers?
Host a Mobile Esthetic Party!
Do you love get-togethers with friends, family, and colleagues?
Imagine a party full of great conversation paired with education, anti-aging solutions, and an opportunity to receive a rejuvenating Botox treatment.  The Mobile Esthetic Party provides all of this, and it's fun!
By hosting a Mobile Esthetic Party (MEP), you and your guests can experience a stress free, interesting and fun gathering while learning about anti-aging solutions by a medical professional, and collectively receive a group discount or free services in a no-pressure environment.
The MEP offers a perfect formula for a girls' night out, bridal party, birthday celebration, and even a couple's night.  Or maybe you're in the lull before a busy holiday season, providing the perfect time to host a gathering. The MEP is hosted free of charge in our beautiful, new, downtown spa location, or in the informal environment of your home, with your friends gathered around for support.
Only Botox will be injected during MEPs, other services will be scheduled for a later date.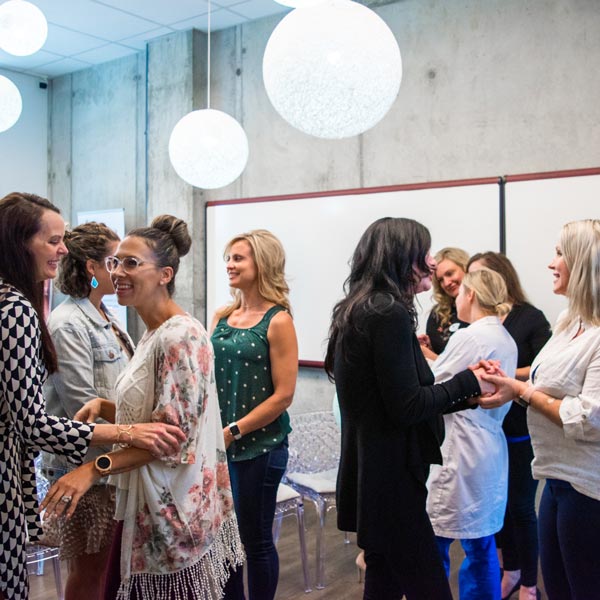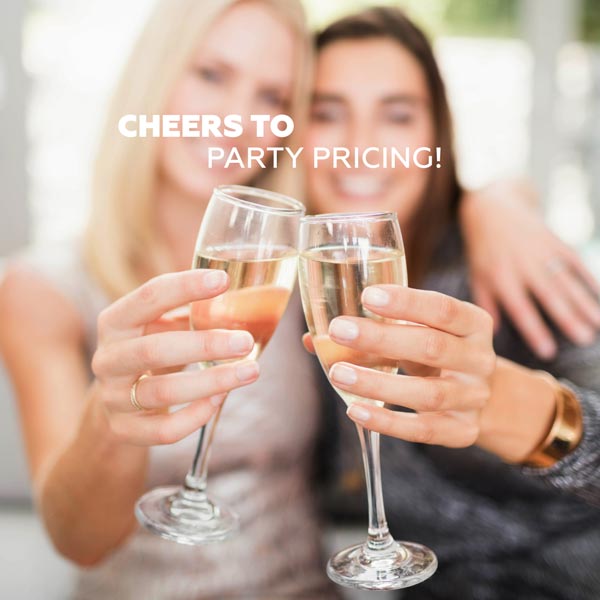 BOTOX®  |  $9.99 per unit
Voluma Liquid Facelift  |  Starting at $899
Volbella Lip Lines  |  $349
Lumecca IPL Treatment  |  $475
CoolSculpting®  |  Buy 6 Placements, Get One Free
CoolTone  |  Buy 5 Placements, Get One Free
Morpheus8 Body Therapy  |  Starting at $600
Morpheus8 Radio Frequency Micro-Needling Face or Neck  |  $699
Viveve-O "Stop Peeing Your Panties" Treatment with V-Shot  |  $2299
Latisse Eyelash Growing Prescription, Large 5ml Kit  |  $165
Book a party at a party and receive $50 at your party BBbux. (qualified with purchase of Botox)
$100 retainer will hold the party prices for 6 months
15% off all booked esthetic treatments with a $100 deposit (packages exclude listed treatments)
15% off retail products purchased at the party
Beautiful Skin Rx Program  |  $100 Discount
Party Day Host BBbux Earnings
BBbux (credit that can be used for products and services):
$2000 in MEP sales = $50 BBbux ($50 for every $500 sold after $2000)
$2500 in MEP sales = $100 in BBbux
$3000 in MEP sales = $150 in BBbux
And so on! There are no limits to how many BBbux you can earn!
*BBbux are credit earned from the total party sales and can be spent on ANY Bobbi Bullock Medical Esthetics' services or skincare products. One BBbux is equal to one dollar. There is no limit on the earnings.
---
Additional Bonus and Host Gifts:
25 complimentary units of Botox valued at $300.00 (at 125 units of Botox sold)
1 complimentary syringe of Juvéderm valued at $699 (at 200 units of Botox sold)
1 complimentary EliteCoolSculpting placement valued at $1000 (CS package of 4+ sold)
1 complimentary CoolTone placement (6+ pack of CoolTone sold)
MEP's will be with registered nurse Melissa Gardner, unless otherwise agreed to.
A $100 retainer from host due at the time of booking; may use toward products or services when guest minimums are not met. The retainer is refundable when cancellation is 15 days or more prior to the party date.
Guest minimums: 4 people with a minimum purchase of 25 units each or total party sales 125 units Botox, to qualify for the host gift of 25 unit of complementary Botox, 300 units for 1 syringe of Juvéderm.
Host may change dates one time without an accrued fee (must be made 10 days before party date). A $50 date change fee will be assessed thereafter.
Guests booking off a party will earn $50 BBbux, at their party, if they purchase 25+ units of Botox at the current party.
All participants must fill out a medical history and sign consents prior to injections.
A complimentary post injection appointment at the spa will be scheduled for all new clients 10-14 days post injections to ensure perfect results.
Guests may not be intoxicated or under the influence of drugs.
All purchases must be paid for by close of party. Cash, checks, and credit cards are accepted.
Party will close 2 weeks from the party date, and the host's BBbux will be determined at that time. They are non-transferable and valid for 6 months. Party price's will be honored.
Guests may come into spa within one-week prior or two-weeks after to get party prices, these sales will count towards party totals.
Interested in a Mobile Esthetic Party?
Fill out the form at the link below and a BBME representative will contact you. 
Important Things To Know About MEP
All injections are performed by a medical professional.

Only certified USA Allergan products Botox, Juvéderm, Voluma, Volbella, Vollure, and Kybella are used.

All treatments and photographs are HIPPA protected.  Our HIPPA policy is available upon request.

A thorough medical history is taken with a review of medications and medical issues.

Photographs will be taken before injections for facial analysis and will not be used for any purpose other than before and after comparisons.

Consent forms will be reviewed and signed prior to any treatment.

Follow up care instructions are provided to every patient.

Everyone injected is offered a complimentary follow up visit to ensure that the injections meet/exceed expectation.

There is never a charge for touch-ups.

Anyone desiring a private or extended consultation can be scheduled at the spa for no additional charge.

Aseptic technique is used with each injection.

Bobbi Bullock NP-C and all her staff have adequate and comprehensive malpractice insurance.

There is zero pressure or obligation to receive any injection or treatment.

Clients ARE NOT TREATED if under the influence of drugs or alcohol.

All services at Bobbi Bullock Medical Esthetics are guaranteed to meet or exceed expectations.