What is the CoolSculpting® Experience at BB Medical Esthetics?
My name is Adrianna, and I am usually the first friendly face you see during your visit at the spa, as I work the front desk here at BB Medical Esthetics! I recently received my first CoolSculpting® treatment and would like to share about my experience. My personal CoolSculpting® journey didn't just happen overnight, I want to share the steps and experiences I encountered, so that if any of you have been thinking of taking the leap with CoolSculpting®, you can feel confident in your decision and know exactly what to expect! For the last handful of years, like many of us, I have struggled with body confidence. Weight gain of course affects everyone a little differently and is brought on by many reasons. Whether it's from stress, medical issues, and for some, like myself, I gained the majority of my weight after I met my now fiancé. Happiness has an odd  way of taking your focus off the little things like the type of food you are putting into your body or the amount of time you spend in the gym and more on the memories you make with the ones you love. When I started at BBME, I was very fascinated with CoolSculpting® and the permanent results our clients were seeing when they came in for their follow ups. These results are truly life changing for some people and to be able to permanently see the reduction of fat in areas that can be hard to target with just diet and exercise is incredible.
I have been keeping myself busy during the pandemic by planning my wedding that is coming up in September 2021! I found my dream wedding dress and wanted to really start working on myself, in more ways than one. To ensure that on the day I walk down the aisle, I feel AND look my best. I started with my skin first. I have been taking great care of my skin by using the skincare products we have here at BBME, and I have been working with our Master Esthetician, Lauren. I wanted my skin to have that bride glow on the big day. The last step of my wedding prep was to make sure that my dress looked and fit like a glove. I decided to get CoolSculpting® done with our Lead Coolsculpting Technician, Skya. Contrary to popular belief, CoolSculpting® is not a weight loss tool. Coming into this experience I was not searching for a way to "get skinny" or a quick fix to shedding pounds.  A lot of times the number on the scale does not move at all. With that being said, that's what makes CoolSculpting® different, you do not have to start at a specific weight to be a candidate, it is all determined in the consultation. When I went into my consultation with Skya, she looked at my hip area and my lower abdomen- the areas of my body that I was the least confident of. She was able to tell me exactly how many treatments I would need and where she would place them to get optimal fat reduction. CoolSculpting® is not a one size fits all, which is part of the reason why I think it is so amazing.
On the day of my treatment, we started at about 8:30 am. She had the room all prepped for me with items to change into, blankets to keep me warm, snacks for if I got hungry during my treatments, and Netflix to watch to keep me entertained. Skya first started by marking the areas where the placements would be applied, that way, we had a great game plan going into the treatment. BBME owns multiple CoolSculpting® machines, so being able to target different areas at once, made the whole treatment go by quickly. She began with cleaning the area very thoroughly and then placed a gel pad on my skin to protect it from the freezing temperatures and then placed the applicator on the area and sucked in the tissue. It can sound intimidating, but that portion was the easiest and most comfortable. Once she started the machine, it slowly began to get extremely cold. This felt sort of odd, but was completely painless. After about 5-10 minutes the area went completely numb and I forgot I was hooked up to the machine. The individual placements were 30 minutes each. After the time was up, Skya came back in, took the applicator off, and performed a 2-minute post treatment massage. This portion was slightly uncomfortable, but with it being such a short time frame, it was very tolerable. After that part was over, she gave me warm towels to place on the area to help ease any discomfort as the tissue was warming back up.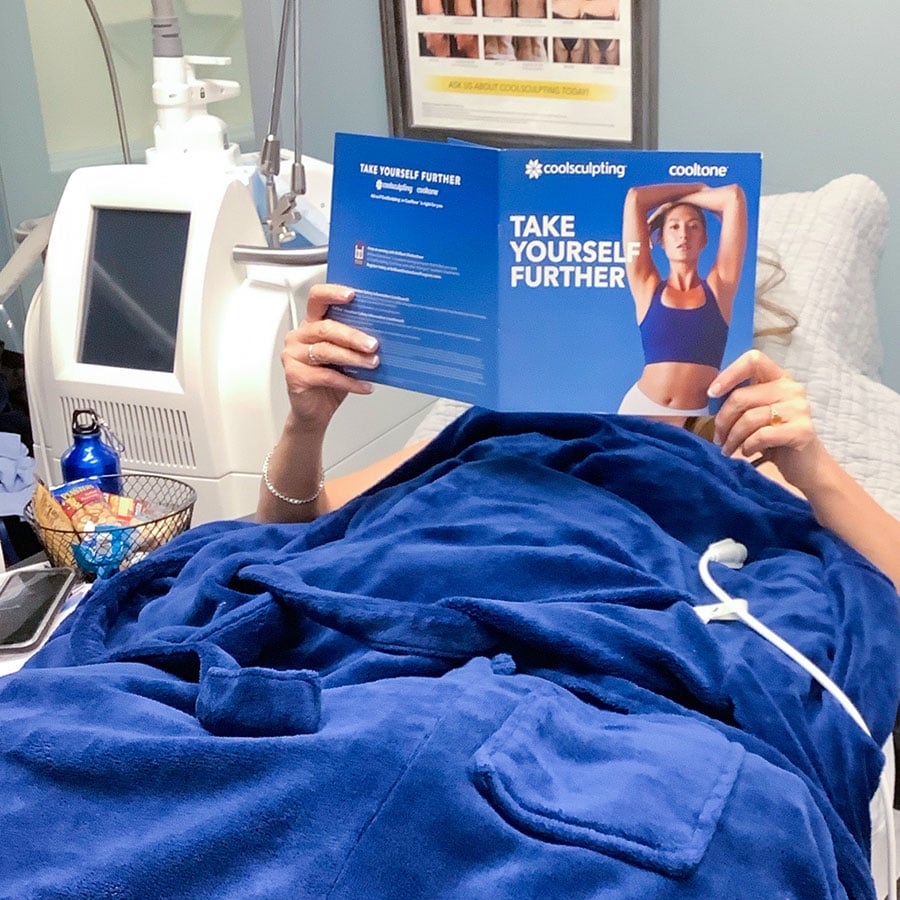 The amazing part ofCoolSculpting® is that there is no down time since it is a noninvasive treatment. You can continue with your usual day after receiving CoolSculpting®, and I did exactly that! I got right back to work. My abdomen was slightly sore for the next two days but nothing that would prevent me from doing my daily activities. The fat reduction is not instant, but will continue to happen over the next couple of months. In about 3 months, I will have a follow up appointment with  Skya who will take after photos of me to compare the difference with before photos and retake my measurements to see the progress!
I am extremely grateful for the opportunity to be treated by the best of the best here at BB Medical Esthetics. Everyone who is a part of the Body Improvement Development team really takes the time to come up with a customized treatment plan for each individual client that walks in! I cannot rave enough about the experience; I came into it being pretty nervous because of my body insecurities, even though I know other women experience the same thing. So, I just want to share that I left with newfound confidence, and I have not even received my complete CoolSculpting® results yet! If you are contemplating on if CoolSculpting® is for you, I 100% recommend coming in for a complimentary consultation and to talk to these amazing gals!