Bobbi Bullock Medical Esthetics and COVID-19
It is no secret that COVID-19 has turned the world upside down. Wearing face masks has become part of our everyday lives. Hand sanitizer and hand washing are now more important than ever, and everywhere you go you are advised to stay six feet away from the people around you. If you asked anyone, we doubt they would have seen this coming at the end of 2019. We have all had to make many sacrifices and changes to our daily routines. People often ask what measures Bobbi Bullock Medical Esthetics is taking to better prepare our staff and clients to deal with COVID-19. Businesses around the world have all had to take extra steps to ensure that their clients are being taken care of. Here is what we are doing to make sure you receive the best and safest service possible!
Our efforts to protect our clients from COIVD-19 begin before the client steps foot in our doors. The day before each client's appointment they are sent a reminder, along with a survey that each client must take before they can come in for their treatment. This survey goes over any symptoms that might indicate the client has COVID-19 and asks about possible contact that the patient might have had with anyone that is showing symptoms of COVID-19 or who has tested positive for the virus. If the client answers yes to any of the questions on this survey our reception team gives them a call to review the survey with them. If it is made clear that the individual is at risk of having COVID-19 or has been exposed to COVID-19 and might test positive in the near future, we reschedule their appointment. Along with this, all clients are required to wear a face mask upon entering the spa.
When our clients arrive at Bobbi Bullock Medical Esthetics, we have a check-in process for all our clients to follow recommended guidelines for COVID-19. As clients enter the door our receptionists are sitting at our front desk behind plexiglass barriers. Clients might also notice that all our staff members are wearing face masks, and face shields to minimize the possibility of spreading germs. Our reception staff asks each client for their check-in information and takes their temperature. They also ask the client to sanitize their hands before entering our lobby. Our lobby has been arranged in a way that accommodates social distancing, with our seating separated and cleaned regularly. This gives our clients a safe space to wait for their service providers. 
 At this time, we are also limiting the number of visitors we allow to accompany our patients. When our clients come in, we ask that they come in alone. The only people who are allowed to enter into the building are people who have an appointment or clients purchasing products. This is a guideline that is not enjoyable, but it is put in place to prevent the number of people who are coming and going in our treatment rooms and lobby. This will reduce the potential spread of the virus for those who might not be showing symptoms yet or are asymptomatic.  
 Once our service providers are ready, they come to the lobby and bring their patient into the treatment room. All our treatment rooms have been sanitized and meticulously prepared between each of our appointments. At the end of the day, each room is deep cleaned and sanitized. We ask clients to wear their masks for the duration of their visit at Bobbi Bullock Medical Esthetics except when the treatment or service provided is on parts of the face that masks typically cover. In these instances, we allow our clients to remove their masks for their treatments. Our staff wears masks and shields that help prevent any transfer of germs between the client and our service providers.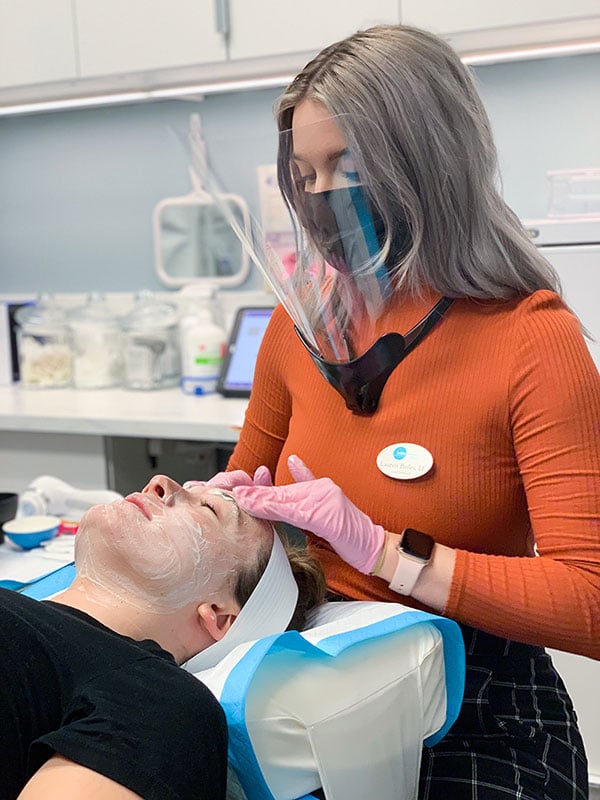 Once the treatment is complete, each patient is brought back to the lobby and visits our receptionists to check out. During this time, we offer contactless payment. Our iPads are set up to have the client insert their debit or credit cards themselves. Once this is done the client signs our iPad with freshly sanitized styluses, to prevent any contact between a patient and a potentially contaminated object. We also have hand sanitizer ready and available at the front desk for any necessary use. 
 In these crazy times, it is the goal of Bobbi Bullock Medical Esthetics to help our clients feel comfortable and safe when they visit our medspa. COVID-19 has placed both people and businesses in a position that nobody expected. We have all had to make changes in order to keep those around us safe. We know that some of these sacrifices are not entirely enjoyable. The amount of support and love we have witnessed from our clients has been amazing. This won't last forever, but until the craziness has passed, we will continue to do our part to make Boise a safe, healthy, and beautiful place!